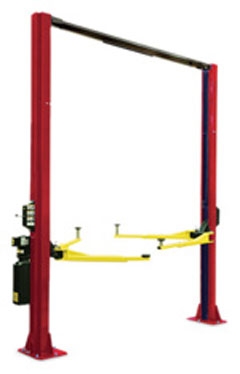 Item shown may not be actual product.
Product and price information are subject to change without notice.
---
Discontinued
10K 2-Post Wheel Lift
---
Description
2-Post Automotive Lifts give you the highest capacity with the best quality, features, and versatility at the most reasonable cost of any North American manufactured lift.
Features
Steel cable pulleys with oil impregnated iron bushings reduce the need for maintenance and increase life of lift
Mechanical safety locks at 17 operating positions
Dual-function micro-switch activates vehicle height safety rod and increases life span of drive motor and cylinders
Overhead beam reinforces lift structural integrity - 12' or 14'
Stack pad style lift works with both cars and trucks (3" and 6" adapters included)
Asymmetric configurations come standard with three-stage front arms providing maximum extended and retracted reach
Warranty
OEM Program three (3) years on parts and labor.
Product Specifications
Capacity: 10,000
Symmetric Or Asymmetric: Asymmetric
Overall Width: 140¾"
Overall Height: 168"
Width Between Columns: 106¾"
Maximum Lifting Height*: 79½"
Under-Bar Clearance: 164"
Drive-Thru Width: 87½"
Shipping Weight: 1,620 lbs.
Lifting Time: 45 sec.