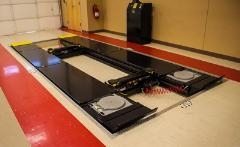 Item shown may not be actual product.
Product and price information are subject to change without notice.
---
Discontinued
Superseded to
EELR588A
10K Flush-Mount Scissor Lift - 223.625" Length
---
Description
Scissor lifts are great for alignments because the vehicle's wheels are more accessible than with 4-post lifts. Scissor lifts also use less floor space. Five scissor lifts fits into the same operating space as four 4-post lifts!
Features
Triple safety systems with air-actuated mechanical locks
Twin interlocking mechanical safeties with 18 level and locked positions
Large 72", flush-mount, full-floating rear slip plates that are virtually maintenance-free
Open access front-to-rear between runways
Two work steps with 8 positions, allowing easy access for under-hood services
A low-profile design with 50" approach ramps
Surface-mount models available
Integrated air kit for Roller Jacks and air tools
Meet current ANSI/ALI ALCTV-2006 standards
Warranty
OEM Program three (3) years on parts and labor.
Product Specifications
4-Wheel Alignment Wheelbase: 155"
Lifting Capacity: 10,000 lbs.
Lifting Time: 85 seconds
Minimum Lowered Height: 9"
Operator Console Dimensions: 16.5"D x 14.125"W x 45.75"H
Overall Length: 223.625"
Power Requirements: 230 V, 1 Ph, 60 Hz
Runway Surface Width: 26"
Service Wheelbase: 179"
Shipping Weight: 5,452 lbs.
Type: Flush-Mount
Width between Runways: 38"
Maximum Raised Height: 72"
Overall Width: 92.5"
2-Wheel Alignment Wheelbase: 165"
Air Supply: 90-120 p.s.i.
Runway Surface Length: 195.5"