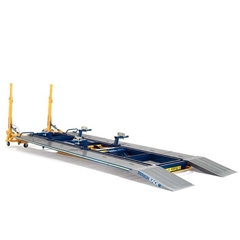 Item shown may not be actual product.
Product and price information are subject to change without notice.
---
$65,505.24
*
*log in for dealer pricing
BenchRack™ 6300 Standard Package
---
Item Number:
CARBR6300S
Supplier:
CAR-O-LINER COMPANY
Lexus Certified Collision Center Program members and Lexus Authorized Collision Centers receive an additional discount on this item. Call the ADE Program at 800-368-6787 and ask to speak to the Collision Support Specialist for details.
Description
BenchRack™ systems are designed to hold and lift virtually any type of unibody or full-frame vehicle. Small cars to light trucks, vans and SUVs can be repaired in your shop. You can lift the vehicle when loaded on the ramps or an chassis pads, allowing access to the wheels and wheel-wells. You can avoid interruptions from moving a vehicle between different work stations like for: disassembly, panel alignment and welding. BenchRack's versatility allows for all the work to be performed at one station increasing productivity, saving time and money. A universal collision repair system for both cosmetic and structural repair for any type of vehicle.
Features
Designed to hold and lift virtually any type of unibody or full frame vehicle
BenchRack increases productivity and efficiency. All repair work can be completed without moving the vehicle.
Machine milled platform surface for precision repairs
Flexible installation, surface mount, and drive on with ramps or flush in-ground
10 tons of pulling force per draw aligner
9,200 lbs. of lifting capacity
Precise information with accurate real-time measuring throughout the process when used with the Car-O-Tronic™ Vision Measuring System and Car-O-Data database
Effective holding and clamping with no need for dedicated vehicle specific fixtures when using the EVO™1, 2, and 3 holding and anchoring systems
Includes
(1) Benchrack 6300
(1) Ramp Kit
(1) Power Unit
(2) Hydraulic Oil
(2) D16 Draw Aligner
(2) Ram Adapter
(2) Pump, Hose, & Cylinder Set (10 Ton)
(1) Bench Parts (B106/B39BR)
(1) Piller Jack Kit
(2) Double Grab Hook
(2) 3/8" x 8' Chain with 1 Grab Hook
Warranty
Two years
Product Specifications
Pulling Force per Draw Aligner: 10 Tons
Platform Length: 21 ft.
Platform Width: 46"
Platform Width (with ramps attached): 79.5"
Minimum Height: 15.7"
Maximum Height (Floor to top of platform): 46.8"
Maximum Length with Draw Aligner: Bench Length + 44"
Maximum Width with Draw Aligner: 90.3"
Work Area Size with Draw Aligner on Both Sides: 134.5"
Lift Capacity (Maximum vehicle weight): 9,200 lbs.