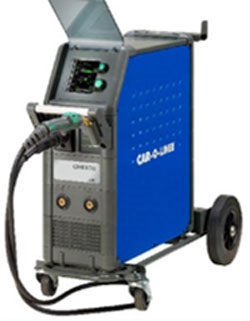 Item shown may not be actual product.
Product and price information are subject to change without notice.
---
$8,050.32
*
*log in for dealer pricing
CMI300 Single Pulse Boost Welder
---
Item Number:
CARNA90575
Supplier:
CAR-O-LINER COMPANY
Lexus Certified Collision Center Program members and Lexus Authorized Collision Centers receive an additional discount on this item. Call the ADE Program at 800-368-6787 and ask to speak to the Collision Support Specialist for details.
Description
The CMI300 Pulse compact and fully digital welder is designed to meet carmakers' standard for joining processes in thin high-tensile steel, aluminum and stainless steel. In addition to sheet metal welding, the CMI300 Pulse features MIG brazing with and without pulse of galvanized steel plates. This ensures maintenance of the materials in terms of corrosion and strength and reduces post-treatment of distortion of plates and profiles to a minimum. The result is cost-effective and efficient welding.
Features
36 Pre-Set programs that meet requirements for welding and brazing
Double Pulse ensures precise control of the arc and minimizes weld spatter
Mig-A-Twist® ergonomic torch has a turnable swan neck for easy access to hard-to reach locations
Boost For All Main Voltages - Equipped with an electronic auto transformer for welding on all mono-phase and three-phase mains votages from 208V to 440V (50/60 Hz)
Four-Roll Wire System for stable wire feeding
Tacho Control of wire motor for ultra precise feeding
LED Light in the wire console for easy change of wire and wire rolls in low light environment
Soft-Key Control Panel with color display and an intuitive icon-based menu
Arc Adjust function for precision adjustment between soft and hard arc
Software Update via SD card
Warranty
Two years
Product Specifications
Current Range: 15-300
Mains Voltage +/- 15% (50-60 Hz) V: 3 x 230 1 x 230
Minimum Generator Size: 16 kVa
Duty Cycle 100% / 40°C, A / V: 200 / 100 / 24.0
Duty Cycle 100% at 40°C, A / V: 230 / 60 / 25.5
Duty Cycle Max. / 40°C, A / % / V: 300 / 20 / 29.0
Duty Cycle 100% / 20°C A / V: 250 / 100 / 26.5
Duty Cycle Max. / 20°C, A / % / V: 300 / 60 / 29.0
Open Circle Voltage, V: 50-60
Protection Class (for outdoor use): IP 23S
Norm: IEC60974-1, IEC60974-5, IEC60974-10 CI,A
Dimensions: 32.99"H x 17.44"W x 48"L
Weight: 108.02 lbs.