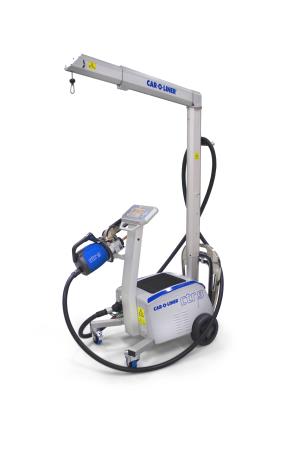 Item shown may not be actual product.
Product and price information are subject to change without notice.
---
$33,174.36
*
*log in for dealer pricing
CTR9 208V Fully Automatic Spot Welder with 40mm, 80mm, 350mm, & 500mm C-Yoke
---
Item Number:
CARNA90576
Supplier:
CAR-O-LINER COMPANY
Lexus Certified Collision Center Program members and Lexus Authorized Collision Centers receive an additional discount on this item. Call the ADE Program at 800-368-6787 and ask to speak to the Collision Support Specialist for details.
Description
The CTR9 fully automatic welder comes with a new, revolutionized light-weight transformer gun. With its 355° swivel handle and ergo-grip, it enables perfect working positions for anyone, for any job. The gun is supported by a telescopic arm in a durable and lightweight extruded aluminum that can be easily adjusted both vertically and horizontally. A compact power unit with a low center of gravity gives mobility and stability, a 16,000-amp transformer and CANBUS communication ensure a perfect weld every time.
Features
Telescopic support arm is designed to ensure maximum freedom of movement
Lightweight transformer gun made of reinforced fiberglass is designed for fast-paced activity, while at the same time reducing the strain on your body
Ergo-grip fully-closed handle fastened at both ends enhances maneuverability and allows you to hold the gun in a relaxed way in every working position
Automatically establishes required settings to ensure the proper weld nugget
Advanced quality control system that monitors and adjusts the welder to guarantee the total energy input
Using the USB port you can easily upgrade your equipment
Storage tray allows you to keep all the tools and accessories you need at hand
Includes
CAR49317 C-Yoke 40mm Arm
CAR49318 C-Yoke 80mm Arm
CAR49319 C-Yoke 350mm Arm
CAR49320 C-Yoke 500mm Arm
CAR36590 Weld Logger
Warranty
24 months
Product Specifications
Max. Voltage: 3 x 208V -5% +10%, 50 Hz- 60Hz
Power supply fuse: 60A slow blow or circuit breaker Type K
Protection type: IP21
Insulation class: F
Cooling type: Liquid cooled
Compressed air supply, P1min- P1max: 5.0-10 bar (72-145 psi)
Duty factor, x: 10%
Maximum short circuit input current, ILCC: 317A
Permanent power (100% duty factor), SP: 116 kVA
Permanent input current, ILP: 324 A
Maximum short circuit output current, 12CC: 16.0 kA
Permanent output current (100% duty factor), I2P: 14.1 kA
No-load voltage, U2D: 12.0 V
Cooling power: 1000W
Tank capacity: 20 l (5.3 gal)
Rated cooling liquid flow, Q: 3 l/min (0.79 gal/min)
Cooling liquid pressure drop: 1.79 bar (26.0 psi)
Electrode force, FMIN - FMAX: 350-640 daN (787-1439 ibf)
Weight: 273.5 lbs.
Cable length: 6 m (19.7 ft)
Dimensions: 45" x 26" x 37"