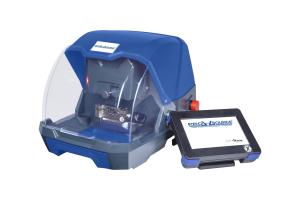 Item shown may not be actual product.
Product and price information are subject to change without notice.
---
$7,200.36
*
*log in for dealer pricing
Pro-Source Key Machine
---
Description
Electronic key cutting machine for automotive high security and double-sided edge cut keys.
Features
Easy to use vehicle search menu
Universal clamp is self-aligning and supports most key types
Single cutter and tracer for most key types
Stand-alone configuration, no separate tablet or computer required
Software updates via internet or USB memory stick
Cutter shield protects the user during the cut process
Includes
CURMSC7786 Pro-Source Cutter
CURMSC10714 Pro-Source Tracer
Accessories
CURVCUTTER Pro-Source Cutter
CURVCLAMP Pro-Source Clamp for Jeep
CUR9200076 H Clamp for tibbe application
Warranty
Two year warranty includes parts, service, and software updates. Excludes cutters and tracers.
Product Specifications
User interface: 7" touch screen, 16:10, resolution 800x480 px, VGA
Lighting: LED illuminated cutting bay
Key reading/Decoding system: Electric contact
Motor: Brushless
Equipment: Mainboard with iMX6 CPU, 1 GB RAM, 4 GB storage
Cutter speed: 3000-8000 rpm (variable)
Dimensions: 12"W x 18"D x 12"H (machine); 8"W x 6"D x 3"H (console)
Weight: 42 lbs.