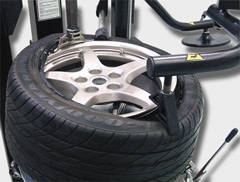 Item shown may not be actual product.
Product and price information are subject to change without notice.
---
$2,169.72
*
*log in for dealer pricing
Safety Restraint Arm
---
Description
The Safety Restraint Arm (SRA) is designed to protect the technician and anyone nearby if a tire should explode during the inflation process.With this safety system in place, over inflation leading to explosion is virtually eliminated. If an explosion does happen, the SRA will capture the rim onto the tire changer and protect the technician and anyone near by.
Features
Hinged arm with capture disc: Prior to inflating a tire, the hinged arm must be centered over the wheel center. The capture disc will descend via gravity over the wheel center and lock in position automatically.
The hinged arm includes a micro switch which closes via the action of positioning the capture disc over the wheel. The Inflation system will NOT allow air to pass into the inflation hose unless the capture disc is in the locked position over the tire and wheel assembly.
A second inflation system contains a regulator with bypass mechanism. Once the tire is inflated to maximum pressure, the bypass valve opens and does not allow anymore air to enter the tire.
Warranty
As an add-on accessory warranty is 90 days. When purchased as part of a new tire changer, warranty is that of the tire changer.