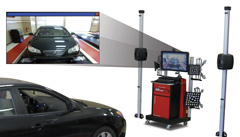 Item shown may not be actual product.
Product and price information are subject to change without notice.
---
$238.68
*
*log in for dealer pricing
Drive-on Camera Aid
---
Description
The Drive-on Camera Aid works with Arago V3D, Visualiner V3D1 and Visualiner V3D2 Alignment Systems.
Features
It eliminates the need for assistance with positioning the vehicle on the lift.
Warranty
One year