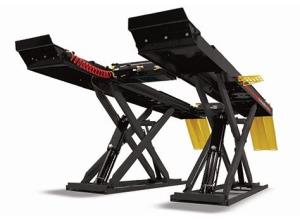 Item shown may not be actual product.
Product and price information are subject to change without notice.
---
$31,658.04
*
*log in for dealer pricing
14K Scissor Alignment Lift Flush Mount
---
Description
John Bean Scissor Alignment Lifts are easy to operate, provide increased accessibility to alignment adjustment areas and are easy to load. Space saving design allows for up to five scissor lifts to fit into the same operating space as four 4-post lifts.
Features
14,000 lb. lifting capacity
Open front and rear access between lifting platforms
Low profile height with long approach ramps easing drive on
Wide drive on runway platforms improves ease of vehicle positioning
Recessed front turn plate pockets and full floating rear slip plates give a uniform surface for alignment
Maintenance reduced rear slip plates use oversized encapsulated bearings, roll upward protected from environment debris
Re-enforced scissor / base structure and runway platforms improves alignment accuracy
Multi-position work step provides comfortable under hood access
4 hydraulic cylinders, cross aligned arrangement provides secure lift power and added safety
Contained top and bottom durable steel re-enforced glide blocks deliver smooth lift operation
Up to 18, level locking locations improves ergonomic working positions
Approach ramps are equipped with end sliders minimizing noise and reducing floor damage
Adjustable maximum lift height, suiting locations with low ceilings
Safety systems include:

Mechanical locking with pneumatic safety lock release form control console
Flow sensing valves in hydraulic control circuit
Redundant hydraulic safety system with cross aligned hydraulic circuits
Integrated hydraulic fuse protection, preventing inadvertent lowering in the event of a hydraulic line leak
Lock pins to secure against slip plate movement when loading/unloading vehicles
Wheel chocks, front wheel stops and self-activating rear wheel stop preventing roll offs

Integrated air kit allows unrestricted clear access for operation of rolling jacks
On-board FRL; (Filter, Regulator, Lubricator) provides clean and lubricated air, reducing maintenance and protecting pneumatic
All models have been tested and validated by an independent third party to the ANSI/ALI automotive lift standard, ALCTV-2011
Warranty
One year
Product Specifications
Maximum Capacity: 14,000 lbs. (6350 kg)
Overall Width (min. max): 92-1/2" (2350 mm) - 94-1/2" (2400 mm)
Overall Length: 237-3/8" (6029 mm)
Console Dimensions (D x W x H): 16-1/2" x 14-1/8" x 45-3/4" (419 x 359 x 1162 mm)
Maximum Raised Height: 62" (1575 mm)
Minimum Lowered Height: 0" (0 mm)
Runway Width: 26" (660 mm)
Width Between Runways: 38" (965 mm) - 40" (1016 mm)
4 Wheel Alignment Wheelbase: 88" (2235 mm) - 155" (3937 mm)
2 Wheel Alignment Wheelbase: 180" (4572 mm)
General Service Wheelbase: 197" (5004 mm)
Lift Time (based on full load): 75 - 85 seconds
Power Rating (at the lift): 230V, 1Ph, 60Hz, 20A
Maximum Operating Pressure: 4600 PSI (31.7 MPa)
Pneumatic Filtration Oil Type: Snap-on # IM6 or Equivalent
Hydaulic Oil Capacity: Tank Size: 4.0 gal. (15L) / Lift Capacity: 6.0 gal. (22.7L)
Hydraulic Oil Type: ISO 32 (10 weight) hydraulic oil