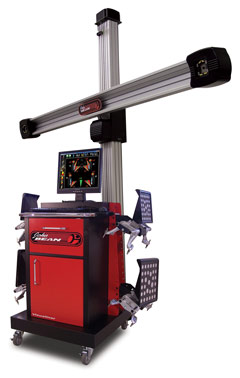 Item shown may not be actual product.
Product and price information are subject to change without notice.
---
Discontinued
Superseded to
EEWA545P4M
Visualiner 3D1 Imaging Alignment with Camera Support
---
Description
Do more alignments in less time with the Visualiner 3D1. The Visualiner 3D1 with Variable-Height Camera Support features continuous measurement of camber, caster and toe. Live on-screen displays eliminate the need for time-consuming re-measurement procedures. This aligner is a great choice for new start-up shops.
Features
EZ-Link* - Displays OEM service information related to computer-controlled steering systems.
VODI™*- Vehicle Orientation Directional Indicator, guides the technician through the measuring process and reduces the amount of time spent walking back and forth from the vehicle to the aligner console.
Live 3D Modeling* - Provides accurate, real-time measurements that reduce setup and measurement times and generate serious productivity benefits.
*Patented and/or patent-pending features
Includes
00055502000 Steering Wheel Holder
00000096000 Brake Pedal Depressor
EAK0268J52A Universal Wheel Clamps and Shatter-proof Imaging Targets
EAA0321J19C Variable-Height Camera Support
Camera Beam Assembly
Options
EAK0289J06A Premium Turntables
EAK0277J28A Paddle Kit for Premium Turntables
EAK0277J39A 4-Post Rollback Kit
EAK0277J40A 12K Scissor Rollback Kit
EAK0277J47A 12K Scissor Roll Forward/Rollback Kit
EAK0277J67A 10K/14K Scissor Rollback Kit
EAK0277J45A Hunter/Rotary Rollback Kit
EAK0256J71A Ride Height Target Kit
8-05320A Frame Angle Gauge
EAK0268J62A Universal Wheel Clamp Extension Kit (to 28")
EAK0268J63A Alloy Quick Clamp Kit
P-1826 Convex Mirror 36" Wide with Hardware
EAK0222J83A Hub Adapter Kit (Wheel-Off Alignment)
EAK0268J08A Remote Display Readout with 30' Cable
EAK0289J71A Universal Wheel Clamp Floor Stand
EAA0321J01A Fixed-Height Camera Support
EAK0289J36A Wall/Pit Camera Support (Adjustable 36"-60")
EAK0289J63A Wall/Pit Camera Support (8")
EAK0289J64A Electronic-Tilt Camera System
EAK0289J23A Remote Control
EAK0289J86A VIN Code Reader
EAK0289J91A Drive-on Camera Aid
Waranty
Three (3) year warranty on parts and labor.
Product Specifications
Tire Diameter:: Unlimited
Track Width:: 48" - 96"
Power Requirements:: 120/230V, 1 Ph, 60 Hz
Wheel Size:: 13" - 24"
Wheelbase:: 79" - 180"