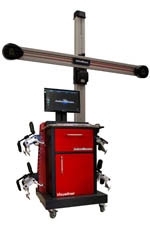 Item shown may not be actual product.
Product and price information are subject to change without notice.
---
Discontinued
Superseded to
EEWA545H
Aligner V3D¹ W/AC400
---
Description
Fully featured, highly accurate wheel alignment systems.
Features
Versatile, Accurate Hardware

High resolution cameras produce accurate, live alignment readings and diagnostic data.
Passive front and rear targets improve durability with no electronics to damage.
Advance targets and clamps are lightweight, durable and impact resistant.

Advanced Dimensions*

Cross-diagonal* measurements identify frame or structural damage.
Rolling Radius* identifies mismatched tire sizes- a potential cause of vehicle pulling and driver complaints.

Secure Clamping without Touching the Rim

Only the tire is contacted.
Clutch limited clamping force ensures accurate and repeatable results.
Durable and lightweight magnesium construction.

Fast and Easy to Use

Clamping is accomplished with single fast-action adjustment knob.
No accessories needed to accommodate the full range of tire sizes.
Large, comfortable handle allows ergonomic use.
Includes
EAK0268J52A : Universal wheel clamps & targets:
00055502000: Steering wheel holder.
00000096000: Brake pedal depressor.
EAA0305J48B: Camera beam.
Options
EAK0284B10A1: EZ-Stream™*
EAK0289J86A Vin code reader
EAK0289J35A Alloy quick clamp kit
EAK0289J91A: Drive-on camera aid
EAK0222J83A: Hub adapter kit for wheels-off alignment
EAK0268J62A: Universal wheel clamp extension kit
EAA0321J01A: Fixed-height camera support
EAA0321J19C: Variable-height camera support
EAK0289J64A: Electronic-tilt camera system
EAK0289J63A: Wall / pit camera support - 8" (20 cm)
EAK0289J36A: Adjustable wall / pit camera support 36" - 60" (91cm - 152cm)
Warranty
OEM Program three (3) years on parts and labor.
Product Specifications
Wheel Size: 13" - 24" (33cm - 61cm)
Tire Diameter: Unlimited
Track Width: 48" - 96" (122cm - 244cm)
Wheel Base: 79" - 180" (201cm - 457cm)
Printer: Included
Shipping Weight: 445 lbs. (202 Kg)
Power Requirements: 120/230V 1Ph 20/60Hz
AC400 Tire Diameter: 19" to 39" (48.3 cm to 99.1 cm)
AC400 Weight: 7 lbs. (3.2 kg)
AC400 Clamping Force: 37 lbs. (164.6 N)
AC400 Construction: Cast Magnesium