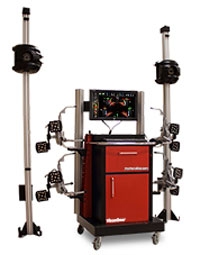 Item shown may not be actual product.
Product and price information are subject to change without notice.
---
Discontinued
Superseded to
EEWA553B
Arago V3D With AC400 Clamps
---
Description
Arago X-CEL uses live, computerized 3D modeling and high-resolution cameras to provide fast and accurate wheel alignments.
Features
Digismart Technology

Advanced software enables the imaging cameras to automatically adjust their height when vehicle is raised or lowered
Cameras automatically capture the wheel targets

Versatile, Accurate Hardware

High resolution cameras produce accurate, live alignment readings and diagnostic data
Passive front and rear targets improve durability with no electronics to damage
Alerts OEM service and maintenance procedures related to Electronic Stability Control and Electrical Steering systems
OEM instructions for resetting sensors - such as steering angle

Advanced Vehicle Dimensioning and Animated Help Videos

Cross diagonal* indicators potential vehicle collision damage
View detailed videos of how to make needed adjustments to complete even the most complex tasks

Secure Clamping without Touching the Rim

Only the tire is contacted
Clutch limited clamping force ensures accurate and repeatable results
Durable and lightweight magnesium construction

Fast and Easy to Use

Clamping is accomplished with a single fast-action adjustment knob
No accessories needed to accommodate the full range of tire sizes
Large, comfortable handle allows ergonomic use

EZ Access Software

See results of your adjustments while you make them - even with the wheels off

Customer Records

Review and discuss vehicle service history through accessing and updating customer records

Manufacturer Specs

Extensive OEM specs allow quick and accurate vehicle selection

Ride Height Measurements

Measure ride height and obtain proper alignment specs for those vehicles requiring it

Rolling Radius*

Identify mismatched tire sizes - a potential cause of vehicle pulling and drive train damage

EZ-TOE*

Turn the from wheels and access difficult adjustment points while still displaying centered toe readings

VODI™

Vehicle Orientation Directional Indicator* - guides technician through measuring process
Includes
00055502000 Steering Wheel Holder
0000009600 Brake Pedal Depressor
EAK0289J23A Remote Control
EAK0268J05A Color Ink Jet Printer
EAK0256J71A Ride Height Target Kit
Options
EAK0289J06A Premium Turntable
EAK0277J28A Paddle Kit (for EAK0289J06A)
EAK0227J39A 4-Post Rollback Kit
EAK0277J39A 12K Scissor Rollback Kit
EAK0277J45A 10K/14K Scissor Rollback Kit
EAK0277J45A Hunter/Rotary Rollback Kit
EAK0277J47A 12K Scissor Roll Forward/Rollback
EAK0305J50A AC400 Dually Adapter Kit
EAK0268J63A AC200 Alloy Quick Clamp Kit
EAK0284B10A1 EZStream™
EAK0222J83B Hub adapter kit for wheels-off alignment
EAK0289J86B Vin Scanner Kit
EAK0289J91A Drive-on Camera Aid
Warranty
Three (3) year warranty on electronic parts, One (1) year on all other parts and labor.
Product Specifications
Wheel Size: 19" - 39" (48.3cm - 99.1cm)
Tire Diameter: Unlimited
Track Width: 48" - 96" (122cm - 244cm)
Wheel Base: 79" - 180" (201cm - 457cm)
Shipping Weight: 770 lbs. (349 kg)
Power Requirements: 120/230v 1Ph 60Hz