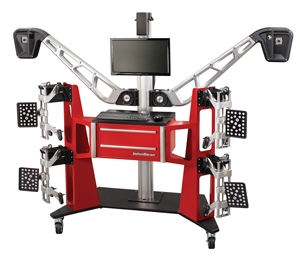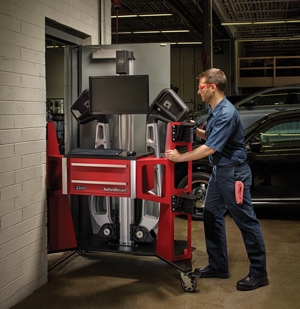 Item shown may not be actual product.
Product and price information are subject to change without notice.
---
Discontinued
Superseded to
EEWA552H2
V3300 Diagnostic Wheel Alignment System AC200 Clamps
---
Description
With a new notification system that provides critical information without slowing you down, the V3300 wheel aligner puts every alignment on the fast track. The ground breaking user interface provides instant access to critical tasks in an intelligent flow, ensuring vehicle-specific assistance is always just one click away.
The V3300 wheel alignment system's automatic height tracking provides optimum placement of its advanced XD targets and cameras for more speed and more accuracy on every alignment. The V3300 takes up less floor space in the shop and can be moved around easily whenever required.
Features
Optimized vehicle selection process

Quick access to history right on the home screen
Clear and comprehensive year / make / model selection
Quick model search
Manual and scanner VIN select, with live look up feature

Quick-select language support for procedures and printouts provides rapid changes between commonly used languages
All new graphic displays with all screens optimized for maximum visibility and clarity
Next Generation UI Optimized for the High-Volume user
Diagnostic alignment with "Compensate Warn Alert" intervention gets it right the first time
Unique camera beam design to fit through a standard doorway and protects cameras
Highly accurate and reliable XD camera technology
Low profile design, lowers the center of gravity for improved stability when moving
Fully mobile folding arms
Lightweight, three-camera system folds to a compact size with a low center of gravity
Printer compartment
Easy access clamp storage system
One-piece mobile system
Color drive-on camera
Adjustable monitor height
John Bean AC200 Touchless Alignment Wheel Clamps with XD Targets

Rugged cast aluminum construction
Fits rims between 11" - 22"; no limitation on tire diameter
10.9 - 11.5 lbs. per clamp
4" extensions are available as an optional accessory
Self centering design enables accurate measurement of vehicle dimensions
Two sided claw allows wider clamping options with no extra parts and allow clamping over hubcaps without removal
XD targets are lighter and take up less space then previous design
Includes
00055502000 Steering Wheel Holder
00000096000 Brake Pedal Depressor
EAK0268J05A Color Ink Jet Printer
(2) Wheel Chocks
24" Flat Panel Monitor
Wheel Clamps with XD Targets
Options
EAK0268J63A Quick Clamp Kit
Warranty
One year warranty on labor, three years on electronic parts, and one year warranty against defects in material and workmanship on all other (non-electric) parts.
Product Specifications
Shipping Weight:: 544 lbs. (247 kg)
Tire Diameter:: Unlimited
Track Width:: 48" - 96" (1219 - 2438 mm)
Power Requirements:: 100-230V AC (must have Earth ground), 15 amp circuit, 50/60 Hz, UL201, C22.2, CE Approved
Wheelbase:: 79" - 180" (2007 - 4572 mm)