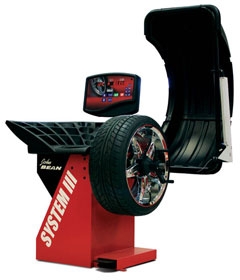 Item shown may not be actual product.
Product and price information are subject to change without notice.
---
Discontinued
VPI System III
---
Description
The VPI System III wheel balancers provide the ideal combination of performance and value. With proven Virtual Plane Imaging technology and advanced, money-making features, the VPI System III wheel balancers give your shop all the tools needed to boost profits.
VPI System III Wheel Balancers will enable your shop to save time, reduce comebacks, handle a wide range of high-performance/aftermarket wheels, perform single-spin balances - every time, and give your shop more high-end wheel balance offerings.
Features
All John Bean balancers feature the industry's best balancing technology - Virtual Plane Imaging (VPI). Because the wheel and tire assembly is placed between the sensors electronically, VPI technology provides unsurpassed measuring accuracy! This configuration physically locates the sensors outside the cabinet - away from internal temperature fluctuations and other stresses. As a result, VPI Balancers offer the ultimate in precision and repeatability.
Semi - Automatic Parameter Entry

Use the inner auto-assist data input arm to quickly and accurately capture wheel distance and diameter, and also to place tape weights behind spokes or on the inside edge of the wheel.
Capture wheel width with the outer auto-assist data input arm

Store Data For Up To 5 Tire Sizes

Stores all data parameters for up to five different tire sizes commonly used in your shop - enabling faster setups

Multiple Operator Memory

Allows up to four technicians to work on the same balancer!

Spin and Job Counters

Track number of spins and balances over time

LCD Monitor and GUI

Easily navigate the most advanced measurements with our easy-to-use Graphic User Interface (GUI)
Communicate results and suggested repairs to your customers

Optional WeightMiser Software

Helps reduce weights used while maintaining acceptable balance and ride quality. The operator has the option of using a smaller (less costly) weight with a touch of a button.
Includes
00058839000 Weight Pliers
Accessories
EAK0221J31A 7 Cone Kit (1.7" - 6.3")
EAK0221J60A 4 Cone Kit (2.1" - 5.2")
Product Specifications
Maximum Wheel and Tire Assembly Diameter: 44" (12 cm)
Maximum Wheel and Tire Assembly Width: 21" (53.3 cm)
Wheel Diameter Range: 30" (76.2 cm)
Balancer Shaft Diameter: 40mm
Balancing Accuracy: 0.05 oz.
Measuring Speed: 200 RPM
Weight Storage Pockets: 17
Data Entry (Wheel Distance, Diameter, and Width): Automatic via Auto-Assist Data Input Arms
Dimensions (DxWxH): 62"x60"x71" (157.5 cm. x 152.4 cm. x 180.3 cm.)
Shipping Weight: 385 lbs. (175 kg)
Power Requirements: 230V 1Ph 4A 50/60 Hz
Maximum Wheel and Tire Assembly Weight: 154 lbs. ( 70 kg)