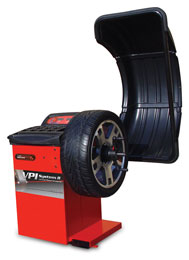 Item shown may not be actual product.
Product and price information are subject to change without notice.
---
Discontinued
Superseded to
EEWB503D
VPI System II Digital Wheel Balancer
---
Description
The VPI System II wheel balancer provides the ideal combination of performance and value. With proven Virtual Plane Imaging™ technology and advanced, money-making features, the VPI System II wheel balancer gives your shop all the tools needed to boost profits.
Benefits
Save time
Reduce come-backs
Handle a wide range of high-performance/aftermarket wheels
Perform single-spin balances - every time
Give your shop more high-end wheel balance offerings
Make More Money!
Features
Semi-Automatic Parameter Entry - Use the inner auto-assist data input arm to quickly and accurately capture wheel distance and diameter, and also to place tape weights behind spokes or on the inside edge of the wheel
Store Data For Up To 5 Tire Sizes - Stores all data parameters for up to five different tire sizes commonly used in your shop - enabling faster setups
Multiple Operator Memory - Allows up to four technicians to work on the same balancer
Spin and Job Counters - Track number of spins and balances over time
Accessories
EAK0221J31A 7 Cone Kit (1.7" - 6.3")
EAK0221J60A 4 Cone Kit (2.1" - 5.2")
EAK0221J50A 1 Ton Plate Package
EAK0221J51A CenTor System (For SUV and Light Truck)
EAK0221J52A Light Truck Package
EAK0221J53A Gold Package 1
EAK0221J54A Gold Package 2
EAK0221J55A Platinum Package 1
EAK0221J56A Platinum Package 2
Warranty
OEM Program 3 year parts and labor

Product Specifications
Maximum Wheel & Tire Assembly Weight: 133 lbs.
Maximum Wheel & Tire Assembly Diameter: 44"
Maximum Wheel & Tire Assembly Width: 21"
Wheel Diameter Range: 8" - 30"
Balancer Shaft Diameter: 40 mm
Balancing Accuracy: 0.035 oz
Measuring Speed: 100 r.p.m.
Weight Storage Pockets: 19
Data Entry (Wheel Distance, Diameter, & Width): Automatic via Auto-Assist Data Input Arm (Distance and Diameter), Manual (Width)
Display: Integrated 3-Window LED
Shipping Weight: 325 lbs.
Power Requirements: 230V, 1Ph, 60HZ
Dimensions: 48.5"D x 51"W x 54"H