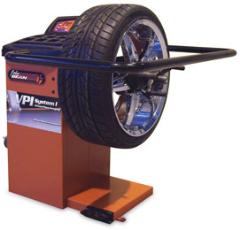 Item shown may not be actual product.
Product and price information are subject to change without notice.
---
Discontinued
Multi-Featured Stand Wheel Balancer
---
Description
Unique software programming projects a virtual plane out on the end of the balancer shaft to allow imbalance vibrations to be measured on both sides of the wheel for improved accuracy and repeatability!
Features
Virtual Plane Imaging for improved accuracy and repeatability. (VPI™)
Automatic distance parameter entry
Tire and Wheel Diagnostics
Tone@Top audible beep signaling
Match balancing mode
Hidden weight spoke program
Pedal activated spindle lock
Wheel Optimization program
Two window data display
Divided weights function
Computer tape weight location program
12 weight compartments
Built-in counter to monitor use / productivity
Space saving, compact cabinet design
Fast, easy operator calibration
Built-in memory for multiple operators (4)
Super quiet, engineered wheel balancer motor
Includes
Wing nut
Captured back spring
Four hardened centering cones
Weight hammer/pliers
Rim width calipers and shaft installation wrench
Wheel hood is optional
Warranty
OEM Program 3 year parts and labor
Product Specifications
Maximum Tire Diameter: 44"
Maximum Rim Diameter Capacity: 8 - 25"
Shaft Diameter: 40 mm
Motor: 1 hp (Acceleration power)
Space Requirement: 36" x 32"
Balance Shaft Speed: 100 r.p.m.
Angular Accuracy: 1-1/2%
Cycle Time: As low as 6 seconds (16" average tire)
Number Of Weight Pockets: 14
Electrical Requirements: 115 volt/1 phase/60 Hz
Maximum Wheel Weight: 120 lbs.
Imbalance Accuracy: 2 grams (.7 oz.)
Maximum Rim Width: 3 - 20"