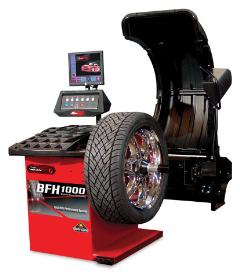 Item shown may not be actual product.
Product and price information are subject to change without notice.
---
Discontinued
Superseded to
EEWB567AP
BFH1000 Wheel Balancer with Opti-Line™ Software
---
Description
The BFH1000 is the most advanced diagnostic wheel balancing system in the industry. Designed for power users and high-volume shops. the John Bean BFH1000 wheel balancer boasts one of the fastest floor-to-floor time in the industry, and also provides advanced diagnostics, such as Radial Runout, Wheel-Only Runout, Tread Depth Laser Detection and much more.
The John Bean BFH Series Wheel Balancers will enable you to:
Perform lightening-fast balances in a single spin - every time.
Handle a wide range of aftermarket / high-performance wheels.
Improve safety by identifying customers tread depth and drivability issues.
Features
Mount the wheel with patented Power Clamp
Collect measurements in six seconds!
Radial Runout
Wheel-only Runout
Automatic spoke detection
Tread depth laser detection
Match-mounting
Opti-Line™ Software
Includes
Power Clamp Nut Kit, EAA0307G54A
Calibration Weight, EAM0005D40A
Wheel Width Gauge, EAA0247G21A
Weight Pliers, 00058839000
Accessories
EAK0221J31A 7 Cone Kit (1.7" - 6.3")

EAK0221J60A 4 Cone Kit (2.1" - 5.2")

EAK0221J50A One Ton Plate Package (Provides lug-centering capability for most passenger cars and light trucks through 1 ton. CenTor Plates, Application Chart, Lug Nut Diameter Gauge, and CenTor Studs)

EAK0221J55A Platinum Package 1 (Use with 7 cone set. Includes Precision Spacer Disc™, CenTor Plates and Studs, Lug Nut Diameter Gauge, Application Chart, SP Centering Spacer and Collets, Large Truck Cone, Large Spacer Disc, and OEM Centering Collet™)

EAK0221J56A Platinum Package 2 (Use with 7 Cone Set. Includes Precision Spacer Disc™, Speed Plate™ 4, 5, & 6 Lug,Torque Stud Tips, CenTor Plate, CenTor Studs, SP entering Spacer and Collets, Large Truck Cone, Large Spacer Disc, and OEM Centering Collet™)
Warranty
OEM Program 3 year parts and labor
Product Specifications
Maximum Wheel & Tire Assembly Weight: 154 lbs.
Maximum Wheel & Tire Assembly Diameter: 44"
Maximum Wheel & Tire Assembly Width: 21"
Wheel Diameter Range: 8" - 30"
Balancer Shaft Diameter: 40 mm
Balancing Accuracy: 0.05 oz
Scanner Accuracy: 0.0039"
Measuring Speed: 200 r.p.m.
Weight Storage Pockets: 28
Data Entry (Wheel Distance, Diameter & Width): Automatic, Non-Touch
Dimensions: 64"D x 64"W x 64"H
Shipping Weight: 550 lbs.
Power Requirements: 230 V, 1 PH, 60 Hz
Display: Elevated LCD Flat Screen Color Monitor