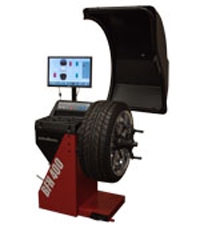 Item shown may not be actual product.
Product and price information are subject to change without notice.
---
Discontinued
BFH 400 Wheel Balancer
---
Description
The John Bean BFH 400 High Performance Wheel Balancing System is ideal for all shops - small footprint complimented by the video display provides high-end features in a compact design. In under ten seconds, the color display shows the location of any imbalance and identifies the optimal tape on or clip-on weight location. The fast spin cycle provides accurate measurement with minimum cycles for fast results.
Features
Smart Sonar simplifies parameter entry
Patented Virtual Plane Imaging (VPI) for precise measuring
Hidden weight mode
Automatic braking of the wheel after measurement
Pedal operated main shaft lock
Tire and wheel optimization program
Compact dimensions - for installation close to a wall
Includes
EAA0263G79A Quick Nut (40mm)
EAK0221J60A 4 Cone kit

Small Cone (2.1" - 2.5")
Medium Cone (2.2" - 3.3")
Large Cone (2.8" - 3.9")
Truck Cone (3.3" - 5.2")

EAA0247G21A Rim Width Caliper
00058839000 Weight Pliers
Warranty
OEM Programs three (3) years parts and labor.
Product Specifications
Shaft Diameter: 40 mm
Measuring Speed: 200 rpm
Measuring Time: 6 Seconds
Balancing Accuracy: 0.05 oz
Rim Diameter - Manual Entry: 8" - 30"
Rim Diameter - Smart Sonar: 14" - 26"
Max Wheel Width: 20"
Max Wheel Diameter: 42"
Max Wheel & Tire Assembly Weight: 154 lbs.
Dimensions (W x D x H): 40" x 30" x 72"
Shipping Weight: 300 lbs.
Power Requirement : 115V 1Ph 50/60Hz