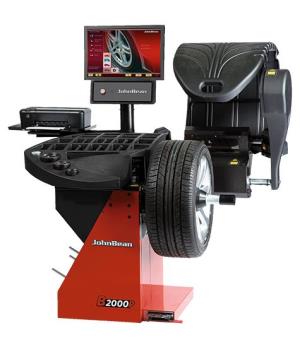 Item shown may not be actual product.
Product and price information are subject to change without notice.
---
$21,106.44
*
*log in for dealer pricing
B2000P Diagnostic Wheel Balancing System
---
Item Number:
EEWB582AP230
Supplier:
JOHN BEAN
Description
Error proof results and state-of-the-art analysis provides customer satisfaction. The B2000P automated diagnostic wheel balancing system offers touchless measurement and analysis. Automatic inputs remove the chance for error and inaccurate results. When combined with precise wheel balancing, the Runout Force Vectoring (RFV) diagnostics assure uniformity based total ride quality.
Features
Runout Measurement

Hundreds of thousands of measurement points are taken with a resolution of 0.004" (0.1mm) to create a 3D model of the tire and wheel assembly

Laser Based Runout

Quickly and easily provides advanced geometry related measurements, using technology that surpasses the performance of mechanical roller-based systems

Automatic 3D Tire Laser Mapping System

High resolution camera and laser based topography mapping emulates the same technology used by tire manufacturers in industrial applications. Tire tread and sidewall color analysis allows depth, wear and abnormalities to be displayed in a simple to interpret format.

Automatic Inputs

Optical scanners automatically measure the wheel. The scanners recognize the wheel type/edge. Correct weight type and size shown to aid productivity

Automatic Balance Measurements

The color display shows the location of any imbalance and identifies the optimal tape or clip-on weight location
Automatically measures assembly and rim runout and calculates runout force vectoring for a quick fix match-mounting solution

Automatic Behind the Spoke Weight Placement

A laser indicates the exact weight location behind the spoke

Patented Automatic Power Clamp

The electromechanical power clamp device always clamps the wheel accurately with a constant force
Provides a reliable and consistent condition to assure accurate and repeatable measurements

Opti-line

Improves ride performance and pull problems that cannot be fixed by alignment alone
Eliminates multiple tire rotations to reposition tires and reduces time required for road tests
Handles any kind of wheel, including wheels with directional tires
Address pull or vibration related issues by suggesting the optimal location for each wheel in the set based on tire concity or radial runout
Accessories
EAK0221J94B - Acura® / Honda® Tooling Kit
EAK0221J95C - Audi® / Volkswagen® Tooling Kit
EAK0221J96B - BMW® / Mini® Tooling Kit
EAK0221J83A - Chrysler® / Dodge® / Jeep® Tooling Kit
EAK0309J01D - Lexus® / Toyota® / Scion® Tooling Kit
Ford® / Lincoln® / Mercury® Tooling Kit - EAK0221J97C
General Motors® Tooling Kit - EAK0221J74B
Infiniti® / Nissan® Tooling Kit - EAK0221J98A
Jaguar® / Land Rover® Tooling Kit - EAK0221J99C
Maybach® / Mercedes-Benz® Tooling Kit - EAK0309J02C
Subaru® Tooling Kit - EAK0309K03B
John Bean® Gloves - JBGLOVE500

Available in Adult XXL, XL, L, M, and S sizes
Warranty
One (1) year warranty
Product Specifications
Max Wheel & Tire Assembly Weight: 154 lbs. (69.9kg)
Max Wheel & Tire Assembly Diameter: 44" (112cm)
Max Wheel & Tire Assembly Width: 20" (50.8cm)
Shaft Diameter: 40mm
Shaft Length: 8.86" (22.5cm)
Measuring Speed: 200 RPM
Balancing Accuracy: 1g / 0.7°
Wheel Diameter Range: 8" - 30" (20.32cm - 76.2cm)
Dimensions (DxWxH): 51.7"x34.2"x72.2" (131x86.87x183.4cm)
Shipping Weight: 418lbs (190kg)
Power Requirements: 230V 1Ph 50/60Hz