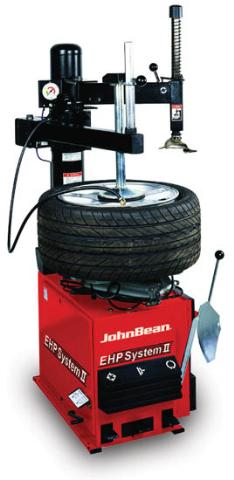 Item shown may not be actual product.
Product and price information are subject to change without notice.
---
Discontinued
Superseded to
EEWH512BE
EHP System II-E Swing Arm Tire Changer
---
Description
This swing arm style tire changer can handle virtually every wheel available today. Swing arm units feature automatic mechanical locking of the vertical rim offset and a technician positioned large diameter horizontal offset know to provide maximum cosmetic safety for expensive wheels. The swing arm allows technicians to move the mount/demount arm clear of the turntable for maximum clearance for placing rims and tires in the mount/demount clamping position.
Features
Optional Pneumatic powered bead assist for servicing stiff wall and / or low profile tires
Less wheel slippage with powerful twin cylinder clamping
Eliminates scratched finishes
Integrated nylon head inserts
No rim-contact demount head
Safer Operation
Unique safety restraint arm protects operator in case of tire (Ordered Separately)
Tire pressure limiter valve to protect from over inflation
Reinforced tower construction
Lifetime lubrication valve
Water separator/oiler standard
National service organization support backup
Warranty
One (1) year
Product Specifications
Inside Rim Capacity: 12" to 24"
Maximum Rim Width: 12"
Bead Breaker Force: 3,300 lbs. @ 170 p.s.i.
Shipping Weight: 530 lbs.
Maximum Tire Diameter: 40"
Bead Breaking Rim Width: 13"
Electrical Requirements: 110V, 1 Ph
Outside Rim Capacity: 10" to 24"
Air Pressure Required: 110 to 170 p.s.i.