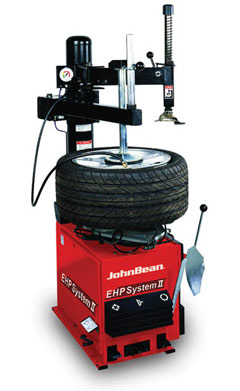 Item shown may not be actual product.
Product and price information are subject to change without notice.
---
$7,016.76
*
*log in for dealer pricing
EPH System II-E Swing-Arm Tire Changer
---
NOTE: Image to left is shown with Optional Safety Restraint Arm.
Description
This swing-arm style EHP System II-E tire changer can handle a wide range of wheels available today, increasing your shops flexibility and profitability. The EHP System II-E features mechanical locking of the vertical wheel offset & a large-diameter horizontal offset knob, providing maximum cosmetic safety for expensive wheels and significantly reducing risk of wheel or tire damage. The swing-arm allows the technician to move the mount/de-mount arm clear of the turntable for maximum clearance for placing rims and tires in the mount/de-mount clamping position.
Features
Adjustable Four-Jaw Clamp

Self-centering nylon-covered clamps grip securely and protect the wheel
Reduced-angle jaws ensure no slippage

Twin-Cylinder Clamping

Two powerful clamping cylinders provide uniform clamping pressure & increased clamping power

Extra Wheel Protection

Replaceable nylon inserts for demount heads prevent wheel scratching
Replaceable polymer remount heads are also available for extended protection

Ergonomically Positioned Bead Breaker

Provides precise power and can be toggled with the foot pedal as needed
Both the stiffest and the softest sidewalls are a snap
No damage to tires while loosening the bead

Integrated Pressure Limiter

Stops air flow once pressure has reached 55 p.s.i. (3.5 Bar), thereby preventing accidental tire over-inflation

Optional Safety Restraint Arm

Positively restrains wheel and tire assembly to the tire changer during the inflation process
Reduces potential for injury by the unlikely event of wheel or tire failure
Simple swing-arm design easily swings in from the left
Allows the technician to quickly and safely perform tier inflation without disturbing the tire changing procedure
Positioning Safety Interlock Switch ensures that the SRA is centered on the wheel nd tire assembly before the inflation process can begin
Anti-Rotation Lock prevents the SRA from moving during the inflation process or in the event of an accidental explosion
Gravity Lock engages automatically without operator intervention and ensure the wheel is secured prior to inflation
Accessories
EAA0270J11A Safety Restraint Arm
EAA0329G33B Pneumatic Bead Assist -for servicing stiff wall and / or low profile tires
EAA0304G14A Wave Tire Tool
ST4029456 +4 Clamp Extensions - Extends outer clamping diameter to 28"
EAA0247G15A Protective Inserts - for mount/demount head
Warranty
Product Specifications
Outer-Clamping Diameter Range: 10" to 24"
Inner-Clamping Diameter Range: 12" to 24"
Maximum Wheel Width: 12"
Maximum Tire Diameter: 40"
Compressed Air Supply: 110 to 170 psi
Tilt-Tower / Swing-Arm Configuration: Swing-Arm
Adjustable 4-Claw Wheel Clamp: Yes
Integrating Bead-Seating Jets: Yes
Pressure Limiter: Yes
Twin Cylinder Turntable Clamping: Yes
Bead Breaker Power: 3,400 lbs. @ 170 psi
Bead Breaker Range: Single Position 3" = 13"
Recommended Floor Space: 62"W x 7-"D
Shipping Weight: 530 lbs.
Power Requirements: 120V, 1 Ph, 60 Hz