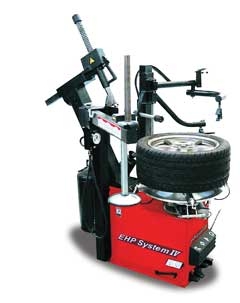 Item shown may not be actual product.
Product and price information are subject to change without notice.
---
$9,434.88
*
*log in for dealer pricing
EHP System IV-E Tire Changer Rim Cap 24" x 15"
---
Note: Image shown includes optional safety restraint arm and pneumatic bead assist.
Description
This automatic tilt tower tire changer can handle virtually every wheel available today. Automatic tilt tower units feature automatic pneumatic locking of the rim offset to provide maximum cosmetic safety for expensive wheels. The tilt tower also provides the technician with maximum clearance for placing rims and tires in the mount/de-mount clamping position. Standard is the Pneumatic Bead Assist. The assist function is positioned on the right side, convenient to the technician. Three individual assemblies, a top pressing roller, a bead depressing foot and a lifting disc aid the technician in mounting and de-mounting today's low aspect and run flat tires.
Features
Made for low profile and run flat tires
Rigid design assists in preventing wheel and tire damage
Tilt tower design with automatic mount/demount head locking
Ergonomically positioned bead breaker control - pedal is positioned away from teh bead breaker with a guard, preventing the operator from accidentally stepping on and activating it while standing next to the bead breaker
Integrated pressure limiter stops air flow once pressure has reached 55 psi (3/5 bar) preventing accidental tire over-inflation
Self-centering nylon-covered clamps grip securely and protect the wheel
Two powerful clamping cylinders provide uniform clamping pressure and increased power
Replaceable nylon inserts for demount head prevent wheel scratching
Includes
Paste bucket and brush kit (RTT75NKIT)
Jaw protectors (ST4027645)
Tire lever (EAA0247G02A)
Adjustable 4-jaw wheel clamp
Integrated bead-seating jets
Pressure timer
Twin cylinder turntable clamping
Accessories
EAA0270J11A Safety Restraint Arm
EAA0329G34B Pneumatic Bead Assist
EAA0304G14A Wave Tire Tool
ST4026853 Rim Protector - Snaps on to rim of wheel (use with Wave Tire Tool)
ST4029456 +4 Clamp Extensions - Extends outer clamping diameter to 28"
ST4028648 Magic Bead Pusher (use with Pneumatic Bead Assist)
EAA0247G15A Protective Inserts - for mount/demount head
Warranty
One (1) year
Product Specifications
Outer-clamping Diameter Range: 10" to 24"
Inner-clamping Diameter Range: 12" - 24"
Maximum Wheel Width: 15"
Maximum Tire Diameter: 40"
Compressed Air Supply: 110 to 170 psi
Tilt-Tower / Swing-Arm Configuration: Tilt-Tower
Adjustable 4-Claw Wheel Clamp: Yes
Integrated Bead-Seating Jets: Yes
Pressure Limiter: Yes
Twin Cylinder Turntable Clamping: Yes
Bead Breaker Power: 3,400 lbs. @ 170 psi
Bead Breaker Range: Single Position 3" - 16"
Shipping Weight: 960 lbs.
Electrical Requirements: 120V, 1 Ph, 60 Hz
Recommended Floor Space: 72"W x 78"D