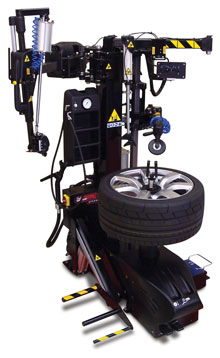 Item shown may not be actual product.
Product and price information are subject to change without notice.
---
Discontinued
Superseded to
EEWH542AJBC
Pegasus ATC 800 Automatic Tire Changer
---
Description
John Bean's Pegasus ATC 800 Leverless Tire Changer has an innovative design that provides for outstanding performance and productivity, putting it far ahead of the competition. The Pegasus ATC 800 offers the best value for your money because of features such as laser indexing for fast, one-time positioning of the mount/demount head, a unique bead lifting tool and a host of other features that will make any technician an expert. The Pegasus ATC 800 will transform your wheel service business by allowing you to process more cars per day, increase the range of wheels and tires you service, and reduce wheel damage.
Handling today's alloy and composite wheels are a critical part of the overall customer satisfaction experience. John Bean has designed the Pegasus ATC 800 to "Do No Harm" when handling expensive wheels and tires.
Features
Exclusive Laser-Indexed, Leverless Demounting
The laser acts as a visual guide when indexing the demount head to the wheel's edge quickly and precisely the first time, every time, eliminating wheel contact
Swing the demount head out of the workspace when not in use with the press of the foot pedal
From the Inventors of Imaging Technology for Shop Equipment

No-Contact Bead Breaker
TPMS-Friendly Rotating Design
Does not touch the wheel
Technician controls both the bead-breaking disc position and angle to break the bead on the most difficult tires
Disc angle adjustment ensures proper positioning of the bead-breaking disc for quick and safe demounting without damage to the bead or sidewall
Does not rely on breakable "finger" tool or other device for indexing, unlike competitor's models
Bead Push™
Essential for mounting the upper bead on today's tires - mount upper beads on any tire with ease!
Like having a second set of hands available - no need to involve another technician
Unique two-position design automatically controls positioning of the bead into the drop center
Wheel Lift
Essential For today's heavy tires and wheels
Side-mounted wheel lift raises the wheel to the height of the turntable - standard with tire changer
Ensures proper handling, reducing chances of damaging expensive wheels
A standard feature - unlike competitor's models
Improved Center-Post Clamp Design
Improved design clamps at the center, the wheel's strongest point
One-man operation to lift and secure the wheel - no more wrestling with the wheel to position it for clamping
Quick-Nut: Easy and fast clamping without wheel damage. Locks with even force on any wheel type
Adjustable height turntable allows clamping on standard and reverse-mount wheels
Topside Inflation
Single pedal control - light press for tire inflation, firm press activates inflation and topside bead blast
Topside bead blast is the best way to inflate today's stiff sidewall and EMT tires
NOTE: Match-Mounting - To make the most of your Tire Changer investment, pair the Pegasus ATC 800 with John Bean's BFH 1000 Total Ride Performance Wheel Balancer System. The BFH 1000 uses touchless, laser imaging technology to determine the optimal match for each tire and wheel assembly. The Pegasus ATC 800 then quickly indexes the tire and wheel. Eliminate customer comebacks by reducing vibration due to non-uniformity issues!

Includes
EAA0349G04A Wheel Clamping Kit
EAA0347G81A Support Device
EAA0096G70A Spare Plastic Inserts for Demount Head
EAA0097G70A Spare Plastic Inserts for Demount Claw
EAA0349G05A Extended Threaded Retainer Shaft
ST1028648 Magic Bead Pusher
ST4026853 Rim Protector, snaps onto rim of wheel
Accessories
EAA0358G58A Reverse-Mounted Wheel Kit
EAA0349G06A Light-Truck Wheel Kit
Warranty
One Year
Product Specifications
Air Requirements: 100 to 170 p.s.i.
Dimensions: 69"D x 67"W x 81"H
Maximum Wheel Weight: 154 lbs.
Maximum Wheel Width: 17"
Power Requirements: 120 V, 1 Ph, 60 Hz
Shipping Weight: 770 lbs.
Wheel Diameter Range: 12" - 30"
Maximum Tire Diameter: 47"