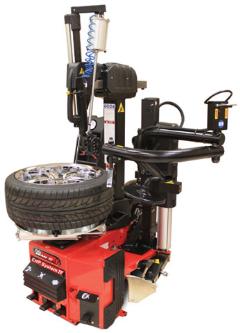 Item shown may not be actual product.
Product and price information are subject to change without notice.
---
Discontinued
EHP System IV AT Plus Leverless Tire Changer
---
Description
John Bean's EHP Series Tire Changers are the answer to the latest needs of the modern tire center. They are ideal for handling passenger car, light truck, and high-performance wheels found today and those of the future. The EHP Series Tire Changer's combination of speed, versatility and safety translate into better wheel service and increased productivity for your business.
The EHP System IV AT Plus tilt-tower tire changer can handle a wide range of passenger car and light truck wheel and tire assemblies, and features a unique bead-lifting tool which inserts between the tire and wheel in a single motion and exclusive laser-indexing that acts as a visual guide when indexing the demount head to the wheel's edge quickly and precisely, eliminating wheel contact.
Features
Adjustable Four-Jaw Clamp

Self-centering nylon-covered clamps grip securely and protect the wheel
Reduced-angle jaws ensure no slippage

Twin-Cylinder Clamping

Two powerful clamping cylinders provide uniform clamping pressure & increased clamping power

Extra Wheel Protection

Replaceable nylon inserts for demount heads prevent wheel scratching
Replaceable polymer remount heads are also available for extended protection

Ergonomically Positioned Bead Breaker

Provides precise power and can be toggled with the foot pedal as needed
Both the stiffest and the softest sidewalls are a snap
No damage to tires while loosening the bead

Integrated Pressure Limiter

Stops air flow once pressure has reached 55 p.s.i. (3.5 Bar), thereby preventing accidental tire over-inflation

Pneumatic Bead Assist

Wheel Centering Depressor provides downward pneumatic pressure on the wheel's center clamping. Assists operator in seating the wheel clamp jaws between the tire and the wheel flange on stiff, hard-to-depress sidewalls.
Power Lifting Disc lifts tire up and off the wheel flange, reducing the effort of demounting the lower bead.
Bead Depressor follows the tire as it rotates, positioning the bead in the wheel's drop center for faster, easier tire mounting.
Pressure Roller pushes bead down, allowing the operator to position the tire tool in order to lift the bead over the mount/demount head.

Optional Safety Restraint Arm

Positively restrains wheel and tire assembly to the tire changer during the inflation process
Reduces potential for injury by the unlikely event of wheel or tire failure
Simple swing-arm design easily swings in from the left
Allows the technician to quickly and safely perform tier inflation without disturbing the tire changing procedure
Positioning Safety Interlock Switch ensures that the SRA is centered on the wheel nd tire assembly before the inflation process can begin
Anti-Rotation Lock prevents the SRA from moving during the inflation process or in the event of an accidental explosion
Gravity Lock engages automatically without operator intervention and ensure the wheel is secured prior to inflation
Accessories
EAA0270J11A Safety Restraint Arm
4028228 Quick Tool Exchange Kit - Allows for a quick and easy switch to Plastic Mount/Demount Head
ST4026853 Rim Protector - Snaps on to rim of wheel (use with wave tool EAA0304G14A)
EAA0304G14A Wave Tire Tool
EAA0247G15A Protective Inserts for mount/demount head
Warranty
Three (3) years on parts, labor and travel, accessories and consumables 90 days. Abuse and environmental damage not covered.
Product Specifications
Outer Clamping Diamater Range: 10" - 24"
Inner Clamping Diameter Range: 12" - 24"
Maximum Wheel Width: 15"
Maximum Tire Diameter: 40"
Compressed Air Supply: 110 - 170 p.s.i.
Tilt-Tower/Swing-Arm Configuration: Tilt-Tower
Adjustable 4-Claw Wheel Clamp: Yes
Integrated Bead-Seating Jets: Yes
Pressure Limiter: Yes
Twin Cylinder Turntable Clamping: Yes
Bead Breaker Power: 3,4000 lbs. @ 170 p.s.i.
Bead Breaker Range: Single Position, 3" - 16"
Recommended Floor Space: 72"W x 78"D
Shipping Weight: 960 lbs.
Power Requirements: 120V, 1Ph, 60Hz