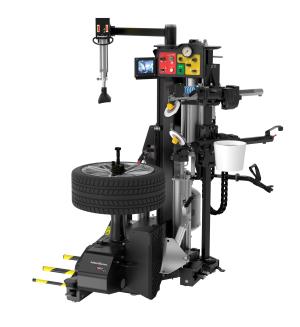 Item shown may not be actual product.
Product and price information are subject to change without notice.
---
$21,509.28
*
*log in for dealer pricing
T7800 All In One Tire Changer
---
Description
T7800 All In One Tire Changer
The John Bean T7800 Tire Changer combines high-productivity features with high-performance reliability. Engineered with superior functionalities that require less effort for technicians to operate an advanced set of tools that minimize the risk of rim damage during operation.
Features
quickLOK™ - The fast and effortless automatic wheel clamping with center post design

No wheel damage
No jaw protection required
No need to "push" the rim into the jaws
No restriction on rim size
Constant locking force
Electromechanical lock/unlock switch on the panel

OPTIMUM BEAD BREAKER SYSTEM

Dynamic Bead Breaker

No wheel damage
Enhances precision and productivity with synchronized dual disks
Adjustable pneumatic tilt disk enables easy operation with hard sidewall tires

On Floor Bead Breaker

Ease-of-use
Fastest bead breaking for soft sidewall and high aspect ratio tires
Shovel actuated by a switch on the handle

powerMONT™ - The innovative, fast, and easy-to-use leverless mount and demount system

FAST

Synchronizes automatically with dynamic bead breaker position for enhanced speed
Fast disengage and repositioning

SAFE

Optimal tool design protects the bead from stress during operation
Plastic protection avoids rim damage at all times

EASY-TO-USE

Intuitive and simple operation control

RELIABLE

Improved steel quality, unique design and plastic protection guarantee steady tire mount and demount
Includes
EAA0304G16A Lube Brush
EAA0408G33A Plastic Tire Protector
EAA0358G85A Bead Clamp
EAA0377G23A Smart Bead Spacer
EAC0099G38A Bead Extraction Tool
EAA0304G15A Bead Breaker Blade Protector
EAM0058G12A Reduction Cone Ø64mm
EAM0058G07A Reduction Cone Ø78m
Reduction Cone (Ø120mm), EAC0099G40A
EAC0102G25A Reduction Cone Ø145mm
AA0364G00A Reverse Mount Wheel Kit → (5) 24mm cylindrical tip pins → (5) 24mm conical tip pins
Cone Kit 42-85mm ((1) Steel Cone, (3) Plastic Protectors), EAK0317G32A
powerMONT™ (10) Upper Tool Protector, EAK0330G57A
powerMONT™ (10) Lower Tool Protector, EAK0330G58A
7.5 lbs Lube Bucket, 8-03229A
Spacer for Bead Breaker (20mm), EAA0440G51A
Spacer for Bead Breaker (50mm), EAA0440G52A
Spacer for Bead Breaker (70mm), EAA0440G53A
Warranty
One (1) year
Product Specifications
Wheel Lift Capability: 154 lbs (70kg)
Standard Power Supply: 230V 1ph 50-60hz 16A
Air Pressure Required: 116-174 psi (8-12 bar)
Footprint (WxDxH): 58" x 73" x 74" (1481 x 1863 x 1880mm)
Max Rim Diameter: 12"-30"
Max Tire Width: 15" (380mm)
Max Rim Width: 13" (330mm)
Max Wheel Diameter: 47" (1200mm)
Reverse Wheels (Clearance/Flange Tool): 12" (305mm)
Shipping Weight: 1190 lbs (540kg)