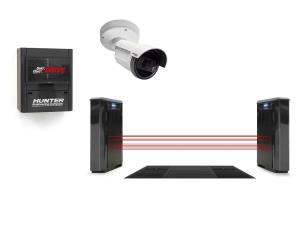 Item shown may not be actual product.
Product and price information are subject to change without notice.
---
*log in for dealer pricing
Quick Check Drive with FM Quick Tread Edge, WU592 Wall-Mount Console, External Vehicle ID, Black
---
NOTE: Does not include tub and frame.
Must purchase HUN2037011 QTE Flush Frame w/ Tub Kit separately.

Description
Quick Check Drive Sensors DRV1 with Flush-mount Quick Tread Edge QTEF, Unmanned Wall-Mount Console WU592, Short Focal Length External Vehicle ID 20-3584-1, and Damage-Cam 3 Year Subscription with 90 day image storage (BDC).
Features
Quick Check Drive
Automatic alignment results

32 lasers and 8 cameras scan wheels as they drive past
Touchless total toe and individual camber
Unmatched accuracy and repeatability
No stopping, data entry, or labor required

Automatic vehicle identification

Captures front and/or rear license plates
Automatic license plate-to-VIN conversion
Automatically determine OEM specs on most vehicles

Automatic results display

Display alignment results on large monitor
Complete transparency for customer
Ideal for service drive and/or waiting room

Quick Check Drive™ is integration ready
Less bay space required
Automatic body image capture

Automatic body photos protect against false damage claims
40 or more high-definition images of every vehicle on both sides
Images are stored online for 90 days
Quick Tread Edge
Automatically measures the tread depth of each tire from edge to edge in seconds
Flush-mounted configuration integrates seamlessly with Quick Check Drive™
Measures tread depth and detects edge wear, analyzes data on-site
Captures accurate tread information on all vehicle traffic
Results sent to console and graphically shown for customer and reports up to six measurements per tire
Built with corrosion-resistant stainless steel, includes self-cleaning air knife
Stores tread depth records to create customer history for use in marketing efforts
Environmentally tested and protected. Works, rain or shine
No recurring monthly charge
Boost most profitable under car services
No additional labor required
Warranty
Call the Hunter Customer Service Department at 1-800-448-6848 for specific warranty information.