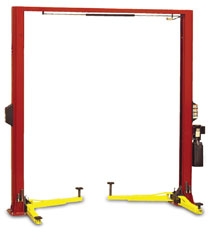 Item shown may not be actual product.
Product and price information are subject to change without notice.
---
Discontinued
Superseded to
422012SS14
12,000 lb. 2-Post Symmetric Lift with 14' Overhead Beam
---
Item Number:
JBC42012SS14
Supplier:
JOHN BEAN
Description
The 12K 2-Post automotive/general-purpose lifts are versatile. Multi-stack pad adapters are standard, making it easy to reach the vehicle manufacturer's pick-up points on either cars or trucks.
Features
Single-point safety lock release for 2-hand lift lowering - keeps the operator safe while lowering the lift!
Mechanical safety locks at 17 operating positions for added safety
Dual-function micro-switch activates vehicle height safety rod and increases life span of drive motor and cylinders
Industrial-strength columns for increased strength and durability
Pre-loaded lift arms are straight even when loaded!
Dual pre-stressed equalizing cables ensure level lifting!
Overhead beam reinforces lift structural integrity
Steel cable pulleys with oil-impregnated iron bushings reduce the need for maintenance and increases life of lift
Stack pad style lift works with both cars and trucks, includes a set of 3" and 6" stack adapters
Fully-supported arm pins prevent lifting arms from sagging. Nickel/zinc-plated arm pins increase lifting arm's lifespan
Bolt-on gear-cut arm restraints increase lifting arm stability
Third-part tested, ANSI ALCTV-2006 standard, ALI certified by ETL.
Optional two-position (12" or 24") bolt-on height extension kit available (JBC080)
Product Specifications
Shippping Weight: 1,565 lbs.
Power Requirements: 230V, 1Ph, 60Hz
Lifting Capacity: 12,000 lbs.
Overall Width: 146"
Width Between Posts: 120"
Maximum Lifting Height: 80" (with 6" adapters)
Under Bar Clearance: 163"
Drive Through Width: 109"
Lifting Time: 60 Seconds
Overall Height: 168"