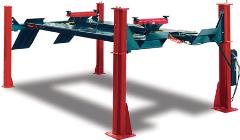 Item shown may not be actual product.
Product and price information are subject to change without notice.
---
Discontinued
Superseded to
EELR507A
14,000 LB 4-Post Alignment Lift - Open Front
---
Description
Heavy Duty open front 14,000 lb. capacity 4-post alignment lift.

Long term dependability comes to mind when viewing open front style 4-post lifts. The load seen on the open front four post lifts is just like the load seen on two post lifts. If the load is seen the same way, why not use similar designs? We do! Both heavy duty two post lifts and the Open Front 4-post lifts use the patented 10 angled Roll Formed Columns. Other design characteristics are shared, spreading the load over a larger surface area of the columns allows for less stress and greater support. Long term reliability.
Features
No tie bar between front runways for totally open access for undercar work
One piece roll formed decks for added strength and a uniform flat surface
Hidden lifting cylinder under the deck improves accessibility and prevents door damage
Heavier 6×36 - 9/16" pre stressed steel cables for longer maintenance free service
21 alignment-level safety-locked working heights
Turntable cutouts and integrated rear slip plates (alignment ready)
Built-in air connections for air tools and roller jacks
Two roller jacks standard with all models
Triple back up safety systems: mechanical locks on each column, auto engaging mechanical locks and hydraulic pressure safety valves
Optional wiring kits for cordless operation between lift and the aligner
Front and rear safety stops
ALI / ETL / CSA certified
Warranty
OEM Program Three (3) Year Parts and Labor.
Product Specifications
2-Wheel Alignment Wheel Base (max): 172"
Roller Jacks: 2-JBC217
Lifting Capacity: 14,000 lbs.
Front Accessibility: Open
Maximum Raised Height: 71"
Distance Between Runways: 36"
Standard Power Requirements: 208 - 230V,1 ph
Overall Width: 148"
Minimum Lowered Height: 10"
4-Wheel Alignment Wheel Base (max): 144"
Runway Width: 24"
Overall Length: 266"
Lift Time: 64 sec.
Shipping Weight: 5,070 lbs.