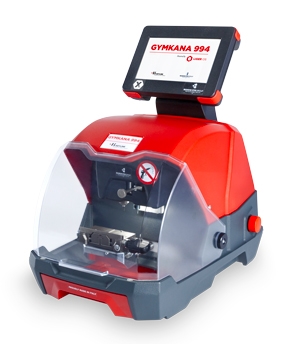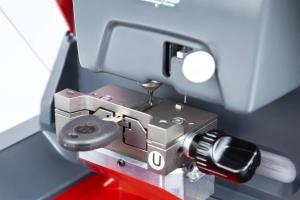 Item shown may not be actual product.
Product and price information are subject to change without notice.
---
$5,896.80
*
*log in for dealer pricing
GYMKANA 994 Electronic Automotive Key Cutting Machine
---
Description
Gymkana 994 is an electronic key cutting machine that permits the user to cut newer high security and double-sided edge cut keys with precision and speed.
Features
Super easy to use!
Create keys by code, copy or by specific depths
Universal self-aligning clamp

Insert the key just close to the sight line – Gymkana will find the key!
Key self-centers as you tighten clamp
Z axis (vertical movement) of cutter/tracer eliminates wasted steps

Universal cutter and tracer used for both high security and edge-cut keys

No adapters, No tip stops, Nothing to change for the majority of vehicles*

*There are a few exceptions due to manufacturer key designs
Additional jaws are available if required

Complete Automotive Database contained in the rugged console – all vehicle makes
Software updates are simple - just choose an option;

Ethernet connection which only requires 4 easy screen steps or
USB drive using a PC

Compact design – what automotive dealers want, saves work counter space
Exclusive technology – proprietary LIGER software

Faster loading, color touch screen display
Step by step intuitive screen prompts

User friendly with added safety features – The large work area makes it easy to insert keys. Clamp a double-sided edge cut key, and Gymkana cuts both sides in one step. No need to flip the key. Clear safety shield and cutter tray minimize chip dispersal. The safety shield must be closed to operate the machine for your safety and Gymkana 994 reminds you, if needed. The cutter speed and the axis are adjustable to adapt to the most diverse keys and materials
US-based manufacturer tech support team is eager and ready to assist with tech support, repairs or machine questions
Replacement Components
KYLRIC07786B V037 2mm Standard Cutter
KYLRIC11110B T08 Standard Tracer
KYLRIC10952B Calibration Template
KYLRIC05350B T00 Cutter Calibration Tool
KYLOPZ11114B Replacement U-Clamp
KYLRIC10741B GYMKANA 994 Replacement Shield
KYLRIC10876B GYMKANA 994 Cutter Belt
KYLBI910 GYMKANA Replacement Console
Warranty
Two years (cutter, tracer and other consumables excluded)
Product Specifications
Power: 110/60Hz
Motor: Brushless
Cutter Speed: 3000 - 8000 rpm (variable)
Key Reading: Electric Contract
Lighting: LED Illuminated Cutting Bay
User Interface: 7" Color Touch Screen. 16:10 resolution 800 x 480 px, VGA
Electronic Equipment: Mainboard with iMX6 CPU, 1 GB RAM, 4 GB memory, high resolution axes control
Dimensions: 12" W x 18" D x 12" H
Weight: 42 lbs.