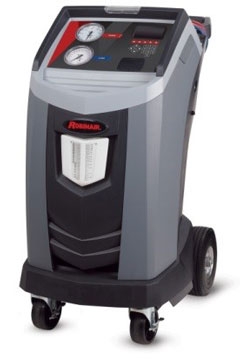 Item shown may not be actual product.
Product and price information are subject to change without notice.
---
$5,234.76
*
*log in for dealer pricing
R134 Hybrid RRR A/C Unit
---
Description
Fully Automatic, unmatched 98.5% recovery!
Robinair introduces its next generation, the 34788NI-H, featuring an industry-leading 98.5% recovery efficiency for standard vehicles and fully automatic function. Recover, Recycle, evacuate, leak-test, and recharge R134A with improved 98.5% efficiency.
Features
One Machine to safely service both conventional and high voltage electric compressor A/C systems
Fully- Automatic Function

Program to recover, vacuum, leak test and charge without operation panel valves

Automatic Oil Drain

A display reminds you to empty the graduated container to show the amount of oil to replace

Visual & Audible alarm

Notifies the user when service is complete, or if a problem occurred

Vacuum Leak Test
Automatic Air Purge
Automatic Refrigerant Refill
Refrigerant Charging

Select a charge mode from high or low side, or use both sides

Display
Certification
Accessories
ROB18480 R134a PAG Oil Injector
ROB18490 R134a POE Oil Injector
ROB30038 Printer for NI A/C Models
ROB34214 Paper (3-PK), for 30038 Printer
ROB34412-B A/C Capabilities Database - 2017
ROB17499 Dust Cover
NOTE: It is highly recommended that separate oil injectors be used for the injection of PAG oil and POE oil to help prevent system cross-contamination (See Robinair accessories ROB18480 PAG Oil Injector and ROB18490 POE Oil Injector).
Warranty
One (1) year
Product Specifications
Dimensions (in) : 36 x 24 x 48.5
Weight: 232 lbs.
Operating Range : 32° - 120°F (0°-50°C)
Recovery Performance: >95% at 70 to 75° F (21 to 24°C) <30 minutes
Voltage: 125 VAC 60 Hz
Charge Performance : +/- 0.5 oz at 70° to 75°F (+/- 15g at 21° to 24°C)
Display : 5 cm x 9 cm Graphical Display
Filter-Drier Capacity: 150 lbs. (75kg), spin-on type
Hoses: 9ft. (2.75m)
Compressor : 3/8 hp, pressure protected, oiled, hermetically sealed
Vacuum Pump: 1.5 cfm Dual Stage, 29.9 InHg
Languages: English, French, Spanish, Portuguese
Internal Cylinder: 30 lbs. DOT