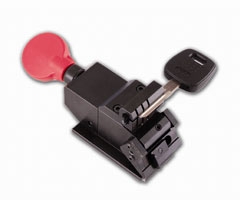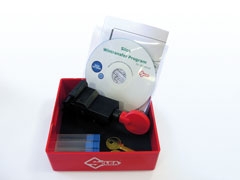 Item shown may not be actual product.
Product and price information are subject to change without notice.
---
$1,496.88
*
*log in for dealer pricing
Edge Cut Kit
---
Description
The new "Edge Cut Kit" offers the capability to cut standard edge-cut keys, while providing all of the exceptional features of the Tri-Code HS.
Features
Decode and copy
Copy to original OEM specifications or copy by measured values
Cut by OEM code (indirect code)
Cut by inserting know depths (direct code)
Innovative jaw design for easy and precise key positioning
Taper correction; detection of the second side of the key and automatic correction in case of incorrect key positioning in the clamp
Key blank detection; compares the key blank measurement to the key card parameters. In case of blade width variation this feature will automatically adjust to a correct depth
"Back Aligners" (alignment inserts) eliminate thenecessity of key alignment pins
Screen prompts simplify clamp position and back aligner selection
Fast key cutting cycle (less than one minute for both sides)
Carriage speed optimized (based on key material)
Electronic calibration of clamp (cutter does not require calibration)
Includes
"D" Clamp
(3) two-sided "Back Aligners" (key alignment inserts)
H158 Cutter
Tracer Point U113
Decoder U113DC
Z3 Templates for calibration
Silca Wintransfer Program (CDRom) - includes over 368 profiles (113 for U.S. vehicle makes), 138 Cutting Cards, 515 Key Series and 287 Key code Tables.
Warranty