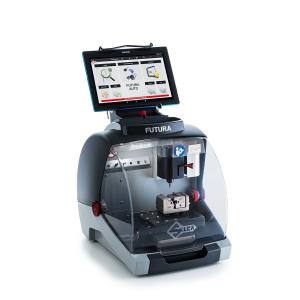 Item shown may not be actual product.
Product and price information are subject to change without notice.
---
$4,069.44
*
*log in for dealer pricing
Futura Auto Key Machine
---
Description
An economically-priced key cutting machine that will cut both the edge cut and laser cut keys. The machine's single-cutting station is specifically designed for automotive applications and will either cut by code or decode and copy.
Multiple versions of the Futura Series Key Machines are available, click here for a comparison chart.
Features
User-friendly software functions include fast key search, key cut preview and guided updating procedures.
Key Cutting

For Laser Key Cutting the machine uses the supplied 106 and 107 jaws along with the appropriate cutting bit, (01LW for most laser keys, 02LW for Chrysler/Fiat and 06LW for Toyota/Lexus 80000 code series, (all of these cutting bits are included).
For Edge Key Cutting the machine uses the 01VA clamp, and the 12L cutter(both supplied with the machine).
Please note the software will indicate which clamp and cutter is to be used for each cut, but the operator must manually change these components when switching between a Laser and Edge Cut Key Blank.
When duplicating an existing key, the machine will decode the original and cut the new key to the OEM key code. Duplicating an old worn key will be cut to the original code.
The software includes key codes from all the automotive manufacturers.

The Futura Auto is only for the North American Automotive Market.
Warranty
Two years