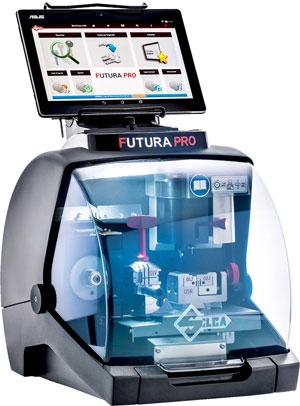 Item shown may not be actual product.
Product and price information are subject to change without notice.
---
$9,981.36
*
*log in for dealer pricing
Futura Pro Key Machine
---
Description
The Futura Pro delivers even more including faster cutting cycles and a new tablet with upgraded electronics and software for faster response times on the new tablet. Futura Pro is a powerful machine for the professional key cutters yet also ideal for the less experienced users with step-by-step prompts throughout the cutting processes.
Ultramodern in design and engineered to the highest quality standards; you can be assured of the most accurate, precise cutting of a variety of key styles on one innovative, amazing machine.
Multiple versions of the Futura Series Key Machines are available, click here for a comparison chart.
Features
Two cutting stations: one for edge cut and cruciform style keys, and one for laser and dimple keys
Edge cut and cruciform station:

Decode via optical reader to OEM specifications
Copy by original function via optical reader for an exact duplicate of the original
Guided calibration of the cutting station
Durable, long lasting HSS (High Speed Steel) milling cutter
Four position, quick rotating jaw (clamp) accommodates a wide variety of keys
Ergonomic clamp handle to easily tighten the key securely in place
Automotive keys and most residential keys cut in one smooth pass

Laser and dimple station:

Decode and copy by electrical contact to OEM specifications
Automatic calibration
Interchangable clamp jaws
Durable carbide laser cutter

Faster cutting cycles with a motor that delivers up to three times more power and cutters that reach speeds of 1,585 rpm for edge cut keys and 12,100 rpm for laser and dimple keys
The tablet together with upgraded electronics delivers quick start up, faster response times and an all-round improvement in the machine performance
Two USB ports; one for charging the tablet and a second port is used to tether the tablet. The tethering connection allows the Futura Pro and tablet to remain connected and operational even when the WiFi connection is unstable or lost. The second port may also be used to connect the USB flash drive (supplied) to import code tables or for machine software updates.
New tip stop tool for the edge cut clamp station to be used in position 4
Kreate-A-Key/Instacode Interface is included
Interchangeable jaws on the Laser/Dimple clamp station saves time and reduces cost
LED color changing lights indicate the status of the cutting process (white=ready, yellow=cutting in process, green=cutting complete)
Carbide laser cutter for longer life cycle
Stainless steel exposed screws resist wear
Ergonomic clamp handle design offers a comfort grip and holds keys securely on the edge cut side
Built-in hood accessory tray for easy to access to tools and/or keys
Multi-language support
Includes
ILCD747276ZB Edge Cutter 01F
ILCD747838ZB Laser Cutter 01LW
ILCD742867ZB Dimple Cutter 01D
ILCD742846ZB Edge Cut Jaw 01V
ILCD943253ZR Jaw 01J Standard
ILCD943254ZR Jaw 02J Standard
ILCD744023ZB Laser Jaw 19J
ILCD942565ZR Tracer Bit 01T
ILCD942866ZB Tracer Bit 02T
ILCD943754ZR Tip Stop
USB Pen
Software Interface: Instacode/Kreate-A-Key
Options
ILCD743954ZB 06L Steel Cutting Bit
ILCD747840ZB 06LW Carbide Cutting Bit
Warranty
Two years
Product Specifications
Motors: 24V dc
Power Supply: 90/264V - 50/60 Hz
Movements: 3 axes driven by step motors on rectified roller guides
Carriage Runs: Axis X 1.18" (30 mm), Axis Y 1.97" (50 mm), Axis Z 1.06" (27 mm)
Dimensions: 12.52"W (318 mm) x 16.26"D (413 mm) x 20.47"H (522 mm) with tablet, 13.38"H (340 mm) without tablet
Weight: 44 lbs (20 kg)
Software Interface: Instacode/Kreate-A-Key