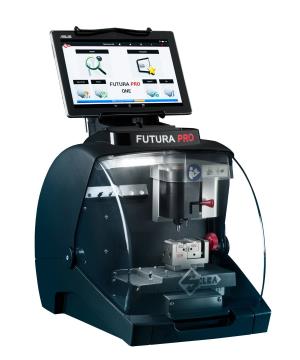 Item shown may not be actual product.
Product and price information are subject to change without notice.
---
Discontinued
Futura Pro One Laser Key Only
---
Description
Built on the successful Futura Pro platform the Futura Pro One is designed and engineered with just one cutting station to originate, decode and copy laser keys. Like the Futura Pro, this model is powerful enough for the professional and ideal for inexperienced users with the step-by-step prompts throughout the cutting process. Controlled by a removable 10" (254 mm) touch-screen tablet, the Futura Pro One guides the user step-by-step in all key cutting operations; for example, in selecting the make, model and year for automotive keys, selecting the cutter, clamp, etc.
Multiple versions of the Futura Series Key Machines are available, click here for a comparison chart.
Features
Laser station:

Laser cut by key code (machine has built-in database for all manufacturers)
Decode and copy by electrical contact to OEM specifications
Automatic Calibration
Interchangeable clamp jaws
01J, 02J and 19J jaws included will accommodate all North American laser style keys with the exception of BMW and Mercede (requires optional 04J jaw)
Durable carbide laser cutter

Ease of operation:

Shortcut function for vehicle key cutting code searches eliminates manual entry. Simply input the first letters and the software will prompt the make and model for you to select. Key cut preview allows the user to check and correct cuts of a worn key.
Guided step-by-step updating procedure via Wi-Fi or web with the Silca® Remote Service program.
Integrated cutter holder keeps work station efficient and orderly.
Built-in hood accessory tray for quick access to tools and/or keys
Multi-language support

Compact and lightweight:

Compact lightweight and portable with ergonomic base grip for easy lifting.
Safety shield slides within the machine body
Removable tablet stand can be locked onto the machine hood or placed on the counter

Safety Features

Polished steel protective cover over the laser cutter motor
Transparent safety shield contains chips and isolates moving parts
All operations are disabled automatically when safety shield is retracted

Fast cutting cycles with a motor that delivers enough power for the cutters to reach 12,100 rpm.
Tablet integrates software functions and data, including an extensive range of data cards and code tables for keys.
Tablet and electronics delivers fast start up and fast response times between the tablet and the machine; reducing the overall time to duplicate a key.
LED color changing lights indicate the status of the cutting process (white = ready to proceed, yellow = in process of cutting key, green = key cutting complete, safe to raise the safety shield).
Two USB ports; one for tablet recharge and one for the tethering connection so the machine and tablet remain connected and operational even when the Wi-Fi connection is unstable or lost. The second USB port can also be used to connect the USB flash drive (supplied) to import code tables or for machine software updates.
Exposed screws are stainless steel to resist wear.
Includes
ILCD747838ZB Laser Cutter 01LW
ILCD943253ZR Jaw 01J
ILCD943254ZR Jaw 02J
ILCD744023ZB Laser Jaw 19J
ILCD942565ZR Tracer 01T
ILCD942866ZB Tracer 02T
Options
ILCD743954ZB 06L Steel Cutting Bit
ILCD747840ZB 06LW Carbide Cutting Bit
Warranty
Two years
Product Specifications
Motors: 24V dc
Movements: 3 axes (special bushings) driven by step motors on rectified roller guides
Carriage Runs: Axis X 1.18" (30mm), Axis Y 1.97" (50mm), Axis Z 1.06" (27mm)
Dimensions: 12.52" W (318mm) x 16.26"D (413mm) 20.47" H (522mm) with tablet, 13.38" H (340mm) without tablet
Weight: 42 lbs (20 kg)
Power Supply: 90/264V – 50/60 Hz