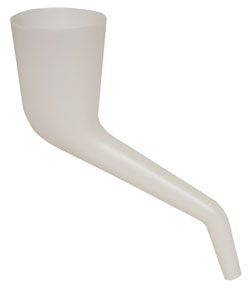 Item shown may not be actual product.
Product and price information are subject to change without notice.
---
$11.88
*
*log in for dealer pricing
Right Angle Funnel
---
Description
Right Angle Funnel
Features
10" Tall Translucent Funnel with a 6-3/4" Offset from Center of Mouth to Center of Spout for Hard-to-Reach Applications.
Useful for adding brake fluid to master cylinders on mini-vans, adding gear lube to differentials, filling the DEF reservoir on GM Duramax diesels as well as other applications.
The funnel mouth is 3.5" O.D. and the spout is .7" O.D.
Warranty
Lifetime warranty except abuse or neglect
Product Specifications