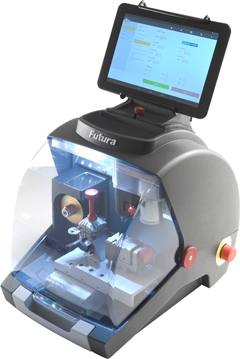 Item shown may not be actual product.
Product and price information are subject to change without notice.
---
Discontinued
Superseded to
ILCFUTURAPRO
Futura Key Machine
---
Description
One Machine for edge cut and laser style keys. One machine cuts both keys by direct code, indirect code or duplicatoin. Futura is one remarkable machine, equipped with ground breaking technology that offers multiple solutions for today's keys cutting requirements. Futura is the most innovative, and advanced electronic key cutting machine available today. Ultramodern in design and engineered to the highest quality standards; assuring you of accurate, precise cutting of a variety of key styles on one amazing machine. Standard cutters and jaws cover over 90% of edge cut and laser style keys on the market today.
Features
Optimized Functionality

Edge Cut Keys

Copy by original with optical reader to ensure an exact duplication of the original
Decode and copy by optical reader to OEM specifications
Automatic calibration
Durable, long lasting TiN-coated HSS (High Speed Steel) milling cutter
Four position jaw (clamp) accommodates a wide variety of keys without additional accessories or adapters

Laser Cut Keys

Decode and copy by electrical contact to OEM specifications
One clamp, three quick change interchangeable jaws included
Automatic calibration
Interactive 3rd axis eliminates the need for manual depth of cut adjustment
Furable, long lasting HSS (High Speed Steel) cutter and tracer point
Accommodates North American laser style keys
Expand capabilities to include Tibbe, tubular and other keys with optional accessories

Touch Screen Wi-Fi Innovation

Removable 10" (254 mm) touch-screen tablet provides step-by-step instructions and menu prompts to simplify key selection, position and the key cutting process
Wi-Fi enabled communication between tablet and machine
Silca® database provided is the most extensive database available
10 different search criteria
Multi-language support

Work Efficiency

Software database updates via direct Wi-Fi connectivity or download to PC and install via USB port
LED lighting and visual process control (white = ready, yellow = cutting in process, green = cutting complete)
Removable tablet stand can be locked into position on the hood or placed on the counter for user convenience
User-friendly tablet stand features adjustable angle
Safety shield retracts into the hood
Grated inner base allows chips to be brushed into the removable tray for quick, easy clean-up of chips
Integrated tool holder keeps cutters and tracers at hand
Built-in accessory tray on hood for easy access to tools and/or keys
Compact dimensions are ideal for minimum counter space and mobile use
Base grip indention for ease of transport

Safety Features

Transparent safety shield isolates moving parts and contains chips during cutting process
When safety shield is retracted cutting operations are disabled
Emergency shut-off button

Environmental Design

Constructed of 90% recyclable materials
Energy-efficient, cost saving LED lighting
Includes
ILCD742607ZB Replacement Cutting Wheel
ILCD742606ZB 01L Replacement Laser Cutting Bit
ILCD942570ZR Clamp 01R Laser Dimple
ILCD943253ZR Jaw 01J Standard
ILCD943254ZR Jaw 02J Standard
Accessories
ILCD743954ZB Toyota / Lexus Cutting Bit
ILCBD0725XXX Toyota / Lexus Wallet Key Adapter
Warranty
Three (3) years.
Product Specifications
Motor : 24V dc
Power: 90/264V - 50/60 Hz
Movements: 3 axes
Carriage runs: Axis X 1.18" (30mm), Axis Y 1.97" (50mm), Axis Z 1.06" (27mm)
Dimensions (with tablet): 12.52"W (318 mm) x 16.26"D (413 mm) 20.47" H (522 mm)
Dimensions (without tablet): 12.52"W (318 mm) x 16.26"D (413 mm) 13.38" (340 mm)
Weight: 44 lbs. (20 kg)
Operating System: Android 4.2.2
Processor (CPU): Cortex A9 Quad Core, 1.6 GHz
Memory: 16 GB
Display : Multi-touch IPS, 1280 x 800 pixels
Rear Camera: 5MP (Autofocus)
Front Camera: 2MP High-Definition Multimedia Interface (HDMI)
Connectivity: Wi-Fi, Bluetooth
Software: Silca® Database